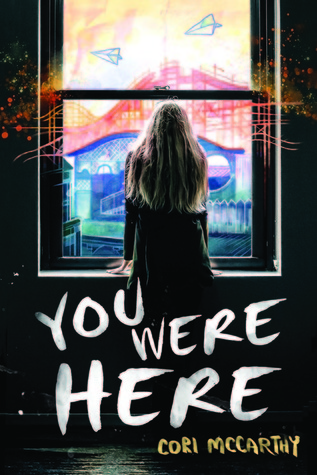 you can find the book at:

GoodReads
Amazon

Barnes & Noble
Author website
my review:
~ARC provided by NetGalley in exchange for an honest review~
You Were Here is a surprisingly enjoyable novel and authentic. Told in alternating chapters from each of the five main character in a variety of ways. The main protagonist Jaycee's are told in the first person, while Zach and Natalie's are in third. Bishop's chapters are graffiti art, while Mik's are graphic novel panels. The result is five clear and differentiated voices and a really refreshing way of reading a book.
Jaycee's brother died five years ago when he snapped his neck doing a backflip off the top of a playground swing in front of Jaycee and others. Five years later, the time hasn't changed the Jake-sized hole she has in her life. Every year, on the anniversary of Jake's death, Jaycee breaks into the ruins of an insane asylum and meets up with Mik, Jake's friend. But this year, Jaycee is joined by her ex-best friend Natalie, Natalie's boyfriend Zach, and their friend Bishop. This was the beginning of a series of adventures when Jaycee finds Jake's map of old buildings and hidden dares.
Continue reading "Book Review: You Were Here by Cori McCarthy" →