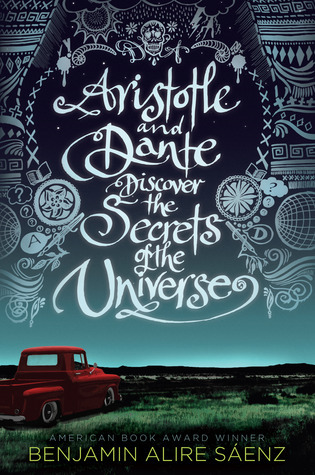 You Can Find the Book At:
GoodReads
Amazon
Barnes and Noble
Author Bio
GoodReads Summary:
Aristotle is an angry teen with a brother in prison. Dante is a know-it-all who has an unusual way of looking at the world. When the two meet at the swimming pool, they seem to have nothing in common.
But as the loners start spending time together, they discover that they share a special friendship—the kind that changes lives and lasts a lifetime. And it is through this friendship that Ari and Dante will learn the most important truths about themselves and the kind of people they want to be.
My Review:
Rating: ★★★★★

(spoilers in review)
Aristotle and Dante Discover the Secrets of the Universe is a story of two friends, Ari and Dante, who meet at age 15 and forge a friendship through a summer of sheer boredom. Their developing friendship is sweet and playful, making it a fantastic story of friendship which later develops into love.
The story is narrated by Ari a loner who lives in a state of constant anger: at the secrets, his family keeps from him, at his father for not being open. Then he meets Dante, who is his opposite. Dante's quick to laugh, an artist and a philosopher. Except as it turns out, they are not so different after all. Ari learns to let go of his anger and goes through a series of moments of self-discovery. It's fascinating to see that Ari's narrative is somewhat unreliable because it is apparent that Ari represses his feelings because he doesn't know them either – and his actions speak louder than his words.
However, I really wished there had been more of a development with Ari and his brother. The mystery behind his brother was absorbing and I wished it was followed through to the end. The ending of the book also felt rushed and abrupt.
Overall, Aristotle and Dante is an engaging coming-of-age story and a thoughtful exploration of identity and sexuality. This story is heartwarming and an extremely worthwhile read.