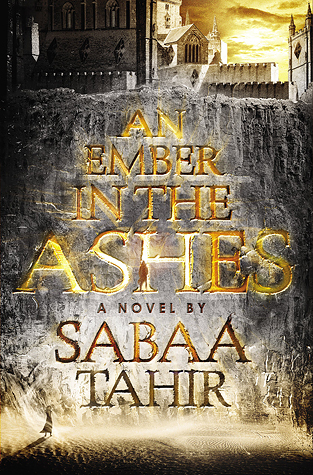 you can find the book at:
GoodReads
Amazon
Barnes and Noble
Author Website
"You are an ember in the ashes, Elias Veturius. You will spark and burn, ravage and destroy. You cannot change it. You cannot stop it."
Laia is one of the Scholars – now ruled over by the Martial Empire – many of whom are poor and illiterate. When her brother is arrested by the Masks, she seeks out the Resistance for help. However, they demand that in return she must enter Blackcliff Military Academy as a slave to spy on the Commandant. Elias – the son of the Commandant – makes up the other perspective in this book.
The two main characters each have their own point of view, which I loved and was captivated by both. Laia and Elias have some major internal struggles going on. I thoroughly enjoyed this book. I felt strongly for the characters, and the plot kept me going and I couldn't put this book down! Both are unsure of the person that they are and what kind of person they want to be. It was beautiful to see them find the strength within themselves to survive in the very different but equally challenging positions they are in. It was lovely seeing their stories intertwine and seeing these similarities come to light. I was engrossed in the story, while it was slow-paced and the action not present throughout, I never felt the lack of it. A right balance was offered.
However, this isn't really a complete story. The beginning doesn't spend any time at all fleshing out the characters before everything changes for them. Rather than laying a foundation, Tahir pushes us right into the action. While this would annoy me for most books, but with Embers, it worked, and I was sped through this. It's getting a sequel, and I'm glad because this is in no way a functional standalone, that some people thought it would be, since so many storylines were left unresolved. I thought it was well-paced and remained engaging throughout. There are a lot of flaws to point out, and a lot could have been improved.
Another aspect that had room for improvement was the romance. I'll give Tahir credit, as I didn't find it as bad, but I had a hard time buying some of the attractions between characters because they rarely interact. Overall, I had a fun time reading this, it's an alright starter for a promising YA fantasy series. I'll definitely be keeping an eye out for book 2!