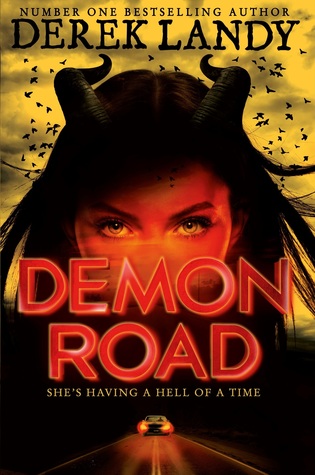 you can find the book at:

Barnes & Noble
Amazon

Barnes & Noble
Author website
my review:
~ARC provided by NetGalley in exchange for an honest review~
Sixteen-year-old Amber's life consisted of her lacking friends and her reliance on her online presence to socialise with her peers. Her parents barely acknowledge her existence, but rather are too consumed by their group of friends. When Amber learns that her parents are demons, and the nature of her family and her own life is revealed she is forced to go on the run as she seeks to save herself from the danger chasing her. She aligns herself with Milo, a man whose is paid for his services – to help Amber as she escapes her parents and their sacrificial contract on her life. Along the journey, the duo is joined by Glen, an Irish boy who also has a mark on his life.
Amber, as a protagonist, was an interesting character. She appeared to be whiny and, in some cases,  a terrible decision maker. But it didn't bother me that much because it made her development even better, and so clear to see. I mean, she did take the situation of finding out your parents are demons and that they plan to eat you much better than I probably would have. But her moments of weakness were understandable and along with her brave, kick-ass moments, Landy creates a really strong female lead.
Milo was a character that crept on me. I think it was mainly due to the fact I thought he was going to end up as an evil character in end, so I was wary of him. Through the book, we get to know him and his history much better. [ Mr. Landy,  some short stories of Milo would be great, just a suggestion…]
My favourite character would probably be Glen. Loads of reviews I've read all seem to be very negative towards him, calling him annoying. But I liked that! Sometimes you just want to laugh with him or just slap him in the face. He fitted in well with Amber and Milo, and being the comedy vehicle, he made it much cheerful in their journey. But I don't like he didn't receive enough attention, even in the end…
However, I didn't like the continuous stabs at Amber's looks. There were multiple times during the book where random people would pop up and point out just how ugly Amber was as a human. I didn't see any point in telling us over and over how ugly she was when we know she's incredibly beautiful as a demon. Also, the storyline did feel predictable and when I looked back the storyline did seem simple. Basically, it's just a girl being chased across America by demons. Like a couple of Supernatural episodes condensed into one novel…
Overall, a snarky and charming novel that was but hilariously entertaining! I really liked it despite some flaws and can't wait to see where Landy takes this series.
Format: Kindle, 512 pages(from print edition) Published August 28th 2015 by HarperCollins Children's Books ASIN: B00UF812T0