I have to be honest with you all… I haven't played PokemonGO yet. I'm a poor eighteen student who is on a pay-as-you-go phone which means not enough data to play. I've played it through my friends, brothers and cousins phone a couple of times.Thank you so much to
Thank you so much to Joey for tagging me!
---
I was a HUGE fan of vampires when I was in my early teens. (who wasn't tbh?) So the Darren Shan Saga and Morganville Vampires were the two series that kicked off my love for reading.
---
I remember in primary school, I think Year 5, we did a whole term on learning about Greek Mythology and I became obsessed. I later read parts of the Iliad in year nine and then the full thing in college because I was taking Classical Civilisation. It's one of my favourite that I know I'll always love!
---
Anything by Sarah J. Maas or Victoria Aveyard. I do intend to read their books one day but at the same time, it's everywhere! While I have no issue with overhyped books but damn… their books literally everywhere. 
---
Machinations by Hayley Stone. Sci-fi post-apocalyptic novels are my one of my favourite genres and even thought Machinations was like most books about the reality of the near extermination of human-kind which is is balanced by the optimism of the resistance but I still liked it anyway.
---
Okay I went to google how many books Terry Pratchett's Discworld series had. (FOURTY-ONE !!!) My friend told me it had loads of books so I've been putting it off for a while now, but I do want to read and complete the series this year.
---
I feel bad that a book hasn't kept me up at night lately… Maybe The King's Men by Nora Sakavic since I was desparate to find out what happens since there's SO much happening in the final book or the Captive Prince trilogy.
---
My bookish OTP is constantly changing but my favourite OTPs, currently, are:
Khalila Seif and Dario Santiago – I wasn't a huge fan of Dario in Ink and Bone but Khalila is one of my all-time favourite characters and the scenes they have together are always so cute and hilarious. Or Santi and Wolfe from the same series.
Ari and Dante – I recently reread Aristotle and Dante discover the secrets of the universe and it just reminded me how much I loved them!!
Katniss and Peeta – I don't care what the rest of my family say, Peeta over Gale anyday.
---
While I haven't finished reading all the Percy Jackson books, it's definitely a series I won't get tired off since I'm huge Greek mythology fan and what I have read of the series so far is so funny! Or The Maze Runner series!
---
As someone who isn't a huge fan of YA contemporary, Everything, everything was surprisingly a good book. Well the first 85% was, I wasn't a huge fan of last half but I did enjoy it considering it was a contemporary novel.
---
The Raven Cycle by Maggie Steifvater. I've been putting this series off for so long mainly because I had seen a couple of things Maggie has said online that I, personally, don't agree with. But I follow so many people of tumblr who all blog about this (especially in the TFC fandom who are always recommending this series in the tag)
---
I'm not sure if these are fan made or official but this Harry Potter leather bound edition (with each horcrux on the cover) is the prettiest thing I've ever seen. And I want it now. Or the version where they come in a trunk.
---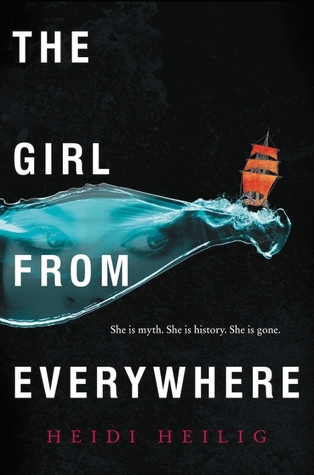 Nix has spent her entire life aboard her father's ship, sailing across the centuries, across the world, across myth and imagination. But the end to it all looms closer every day.
Her father is obsessed with obtaining the one map, 1868 Honolulu, that could take him back to his lost love, Nix's mother. Even though getting it—and going there—could erase Nix's very existence.
For the first time, Nix is entering unknown waters. She could find herself, find her family, find her own fantastical ability, her own epic love.
Or she could disappear.
IT SOUND SO GOOD. I NEED TO GET IT SOON.
---
Rachel Caine! I know loads of people know her for her vampire series, Morganville Vampires, and aren't big fans of it but her newer pieces of writing are so much better and she's improved so much since Glass Houses.
---
With Blood Upon the Sand by Bradley P. Beaulieu. I really enjoyed Twelve Kings in Sharakhai and I'm so hoping book 2 will be as great! or The Fever Code by James Dashner. MORE MAZE RUNNER STUFF PLS
---
Do you like Pokemon? Consider yourself tagged!