It's Not About the Burqa
Rating: ★★★★☆ (4/5)
I LOVED this. A much-needed collection of essays from Muslim women on faith, feminism and sexuality as a Muslim woman. Each piece was distinct and worked towards dismantling a very stereotypical narrative around Muslim women. It does its best to discuss a wide range of experiences and allows Muslim women to take a step into a discussion we are never invited to join. It starts for a much bigger conversation where Muslim women can reclaim their identity for themselves without generalisation and gives a great insight into many other perspectives of intersections of Muslim identities.
Are We All Lemmings and Snowflakes?
Rating: ★★★☆☆ (3/5)
Olive is given a chance to join a new mental health programme where, for one month, she will receive a new form of therapy with other kids like herself, who are dealing with mental health issues. Except Olive does not know her diagnosis and she wants to keep it that way. In this summer camp, Olive comes to term with her thoughts, and while everyone around her is trying to fix her, she realises that maybe it is the world that needs fixing. So, she teams up with the other campers and figures out a way to fix
the world. This book is quite blunt and I, personally, had some seriously mixed feelings about this book. However, I did appreciate the discussion it had on mental health, and it encourages others to discuss it more. The characters are ridiculous and real, and their journey together as a group was a shining moment in this book. I just personally did not connect with this book, but I also did not want to rate it really negatively because of my own personal shortcomings with this book.
The Beauty That Remains
Rating: ★★★☆☆ (3/5)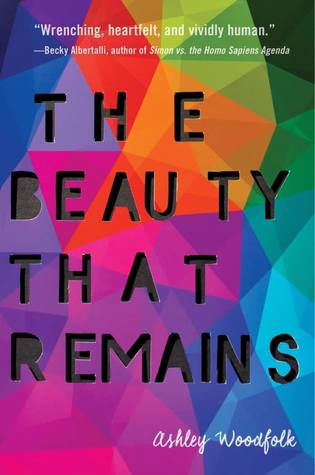 Told from the perspective of three teenagers, all experienced the death of a loved one. Autumn lost her best friend, Shay, her twin sister, and Logan, the boy he loved. Their stories are linked through an indie band called Unravelling Lovely, and this book essentially follows them as they navigate their grief. It's an emotional story, and I really enjoy how each narrator uses music differently to deal with their pain. Towards the end, I feel like the plot thins especially as it's spread between three different perspectives, but nonetheless, I really enjoyed. It's, in essence, three different stories in one, and it has a beautifully diverse cast of characters.
---