I'm so excited to be sharing my TBR for this year's #RamadanReadathon! I've been wanting to join this ever since its start but Ramadan, the last few years, has always fallen during the same months as exam season. Now, that I'm little more organised that I have been in the last few years, I've already started/ completed my assignment for this year so I can join this year without deadlines looming behind my head.
The main focus of this readathon is to celebrate and support Muslim authors during the holy month of Ramadan.The main focus this year is a bingo board that is themed around the five pillars of Islam. Each pillar has four different prompts and one free space to complete! To participate in this reading challenge, you must choose one or more of the pillars to complete and, beginning at the bottom, work your way up the board.
MY TBR (the Salah pillar)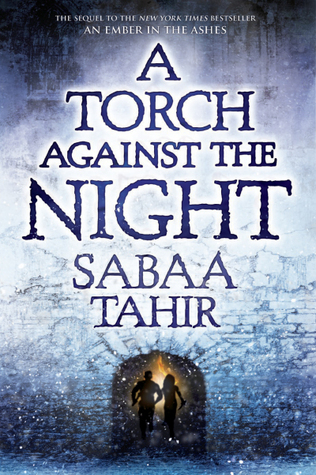 BOOK IN A SERIES
A Torch Against the Night (An Ember in the Ashes #2)
Elias and Laia are running for their lives. After the events of the Fourth Trial, Martial soldiers hunt the two fugitives as they flee the city of Serra and undertake a perilous journey through the heart of the Empire.
---
I actually read the first book in this series, An Ember in the Ashes, back in it's pre-release days. I remember really enjoying this book and thinking that I had to immediately read the next book. That was back in 2015! I think this book has been on my TBR for too long! A reread maybe in order or finding a recap because it's been a long four years and I can't remember anything.
Free Space
Exit West
In a city far away, bombs and assassinations shatter lives every day. Yet, even here, hope renews itself, welling up through the rubble. Somewhere in this city, two young people are smiling, hesitating, sharing cheap cigarettes, speaking softly then boldly, falling in love.
---
My university works with the Booker Prize foundation on a scheme that gives students books to read each year. This was their 2018 pick. We call it the Big Read and I also had an opportunity to meet the author but my sister and her in-laws came to visit so I couldn't attend. 😦
Contemporary Fiction
Secrets of the Henna Girl
Zeba Khan is like any other sixteen-year-old girl: enjoying herself, waiting for exam results… and dreaming of the day she'll meet her one true love. Except her parents have other plans. In Pakistan for the summer, Zeba's world is shattered. Her future is threatened by an unthinkable – and forced – duty to protect her father's honour.
---
This one has been on my Kindle for so long and I never found the time to read it. So glad I found the opportunity now!
Recently released
We Hunt The Flame
War is brewing, and the Arz sweeps closer with each passing day, engulfing the land in shadow. When Zafira embarks on a quest to uncover a lost artifact that can restore magic to her suffering world and stop the Arz, Nasir is sent by the king on a similar mission: retrieve the artifact and kill the Hunter. But an ancient evil stirs as their journey unfolds—and the prize they seek may pose a threat greater than either can imagine.
---
This is actually released in May and I'm grateful for it's placement in the chart because I think I'll be in the position to read it right away on release day!
Name in the title
Amina's Voice
Amina has never been comfortable in the spotlight. She is happy just hanging out with her best friend, Soojin. Except now that she's in middle school everything feels different. Soojin is suddenly hanging out with Emily, one of the "cool" girls in the class, and even talking about changing her name to something more "American." Does Amina need to start changing too? Or hiding who she is to fit in? While Amina grapples with these questions, she is devastated when her local mosque is vandalized.
---
Another book that's been on my TBR for too long! Time to fix that!
Well, that's my TBR for #RamadanReadathon 2019! Are you taking part this year? If so, which pillar(s) are you aiming to complete?