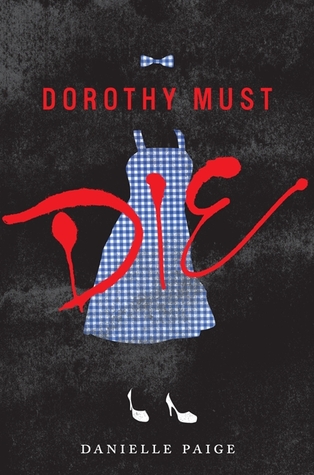 [Edit 18/12/2015: I should note that i've actually researched more in FFF and I definitely have no intention to continue the series]
At first, I wasn't sure about reading this book due to the shady things. However, for this review, I've put all that aside, and this review is based on Paige's work.
"Dorothy Must Die" is a dark twist on the Oz classic where Dorothy has become a power-hungry fascist leader with the Scarecrow, Lion, and Tin Man as her evil henchmen. Then comes Amy "trailer trash" Gumm. She lives in Kansas, with her drug addict mum, and no future and only a rat name Star as her companion. Her life is terrible until a tornado comes, blowing her trailer straight out of her world and into Oz. And this isn't the Oz she had grown up learning about. It's more post-apocalyptic than a fairytale beginning. And Amy must team up with Revolutionary Order Of The Wicked, and trained with one mission in mind, Dorothy must die…
The setting for the novel is so beautiful, it deserves to be visualised. It is such a dark, twisted version of Oz. This book is so dark. The characters are so angry, with good reasons. So many have been sacrificed at the whim of Dorothy and her evil gang. And none of them has a choice, and they can't stand up against the power of those with magic.
I love the portrayal of Dorothy, she becomes so twisted. It takes brains and manipulation and power to get as far as she did in the land of Oz. She commands her minions, the Tin Woodman, the Scarecrow, Glinda. Dorothy may be vain, but power gets to people's head, and she turns evil. Her character is sheer madness. And it's understandable why she hates Amy so much.
Dorothy's face was burning with aggrieved rage. "I am the only one. There can only be one."

My gut twisted. I understood. We had the same story. It was like we were wearing the same dress to the prom. Dorothy thought her landing here was fate—that it made her special. Another girl from Kansas meant that it was just a regular occurrence and that she wasn't special at all. Or—worse—that I was here to take her place.
Amy is such a realistic character, she does heroic actions but realises her stupidity in some things. She's not entirely lovely nor entirely mean. And she has a matter of running away, which is understandable. When she finds herself in Oz, she does the thing where every reader yells at the main character for not doing: she walks away.. or well tries to, but that's destiny for you. There is romance, but it's light. Amy has a crush on the hot fighter guy, but the romance is very light and understandable. It didn't bother me. The plot takes priority.
Overall, since this is the first in the series, there's going to be a lot of world building and development and not the best resolution. But it was an exciting start.