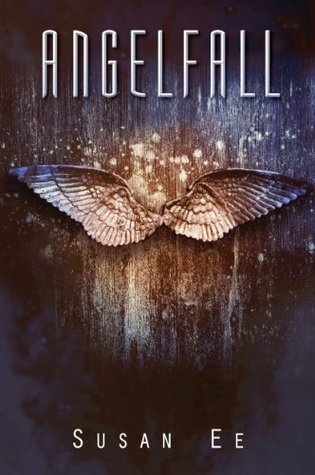 you can find the book at:
GoodReads
Amazon
Barnes and Noble
my review:
Rating: ★★★★★

We have declared war on any being that dares to think they can wipe us out without a fight. No matter how celestial, no matter how powerful they are, this is our home and we will fight to keep it.
Six weeks after an attack on earth, the world has been torn apart by a war between angels and humans. Penryn accidentally finds herself watching an angel getting his wings brutally cut off. In trying to help, she is forced to watch as her wheelchair-bound little sister is taken away. Penryn demands that Raffe provides assistance in finding her sibling, and the two natural enemies must work together to outwit danger at every turn.
TO BEGIN WITH, SHOUTOUT TO SIAN FOR TELLING ME TO READ THIS BOOK.FOUR FOR YOU SIAN, YOU GO SIAN.
I've read my fair share of angel books, and they've all disappointed me. But Angelfall is different in a post-apocalyptic world where Angels have taken over, Penryn is only trying to survive with her schizophrenic mother and sister. Like most books about angels, the main character is usually swooning over these adonis looking people, but no, these angels are brutal and terrifying (and beautiful). Susan Ee's fantastic debut is one of the best post-apocalyptic YA I've ever read, and it blew me away with its perfectly paced blend of action, story, and emotional tension.
Penryn is a fantastic heroine, a funny girl who happens to be amazing in combat. Her interactions with everyone else is so entertaining and hilarious. Raffe is not your usual broody YA main character. [ps agnostic angels was something I was not expecting!]. He's so intriguing and funny it's impossible not to be drawn to him anyway. His relationship with Penryn develops slowly and naturally as they struggle to find shelter and to survive in bleak circumstances, all against a dark backdrop of war and all kinds of unspeakable horrors.
Readers who are uneasy with gruesome books should be warned that there are some pretty intense scenarios, although they are well done and mostly appear in the aftermath.It's exciting to find an author who writes such dark and vivid imagery and doesn't shy away from the gory scene.
I have a few minor complaints, mostly about Penryn's failure to ask enough questions, as this seemed entirely out of character for someone who tries to guess whether she can keep someone alive long enough to be of use to her. I also wish we'd learned a bit more about the war. (also, I heard this went from a 5 book series to 3…why?!!)
The action-packed story, funny dialogue, unforgettable characters all make for an incredible read. The twists and turns of this story are greatly done.