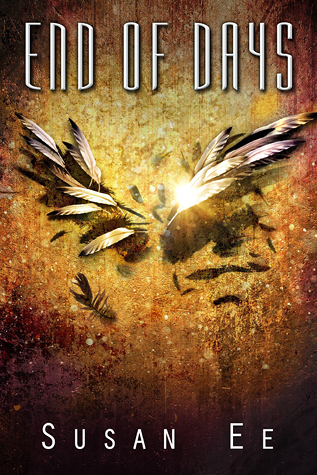 you can find the book at:
GoodReads
Amazon
Barnes and Noble
goodreads summary:
End of Days is the explosive conclusion to Susan Ee's bestselling Penryn & the End of Days trilogy.
After a daring escape from the angels, Penryn and Raffe are on the run. They're both desperate to find a doctor who can reverse the twisted changes inflicted by the angels on Raffe and Penryn's sister. As they set off in search of answers, a startling revelation about Raffe's past unleashes dark forces that threaten them all.
When the angels release an apocalyptic nightmare onto humans, both sides are set on a path toward war. As unlikely alliances form and strategies shift, who will emerge victorious? Forced to pick sides in the fight for control of the earthly realm, Raffe and Penryn must choose: Their own kind, or each other?
my review:
Rating:
★★★☆☆

It begins right where World After left off—Raffe with Penryn in his arms, flying, and Paige sitting on Beliel's body which is being carried by scorpion-tailed locusts. While Word After left me disappointed, I'm not gonna lie so did this. While WA was good for the last 30%, this whole book was a mix of really good/really disappointing.
The character development in this book is very profound. Penryn has always been an independent and strong female character, but in this final installment, Susan Ee takes her badass quality to a whole new level. Raffe, on the other hand, has always been a fierce believer but in this book, the battle between his responsibilities and his heart gets tougher. He's not just an archangel; he's a warrior. The story, pacing, and my overall excitement gives this book 3 stars. However, there were many disappointing scenes.
The romance in this series has always been subtle yet powerful. I really enjoyed their relationship because of their intense chemistry, but at some parts, I was disappointed. Especially when they're lying in bed together, it turned a bit too desperate for me. She moved his hand so it would be on her nipple?????? I didn't find it at all sexy or steamy but slightly creeped out at Penryn's actions and Raffes response.
Penryn used to be smart but lost most of it as the story progressed. She let herself be manipulated and used for the most pathetic of reasons. She was seriously a TSTL character with Beliel, she knew he was manipulative, but she still let herself be tricked by him, all so she could spy on more of Raffe's memories. Her actions probably resulted in the deaths of dozens of humans, those hellions she released must have killed a few people when they escaped, but that thought never crossed her mind.
Also, why was Paige the chosen one when it came to the locusts? How could she control them? Where did that power and ability to come from? Did Doc engineer it that way? If so, how? And why Paige? I felt like it was only put in to have that whole dramatic moment where Penryn was told her sister would be their savior.
That one page where Layla comes back on her side was way too convenient. One minute she was happy with being evil and then she turns back around to coincide with Raffe and Penryn needing help. I felt like a better ending would have been Raffe returning back to heaven, taking all the angels with him, as he initially promised with Penryn.
Overall, an unsatisfying ending to what could have been a decent series.