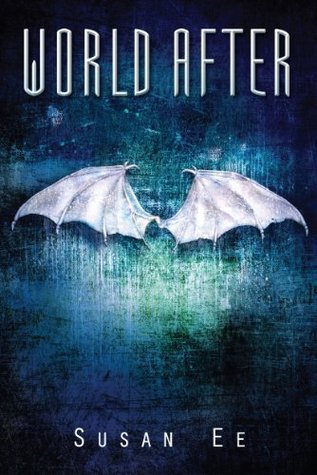 you can find the book at:
GoodReads
Amazon
Barnes and Noble
goodreads summary:
In this sequel to the bestselling fantasy thriller, Angelfall, the survivors of the angel apocalypse begin to scrape back together what's left of the modern world.
When a group of people capture Penryn's sister Paige, thinking she's a monster, the situation ends in a massacre. Paige disappears. Humans are terrified. Mom is heartbroken.
[..] Meanwhile, Raffe hunts for his wings. Without them, he can't rejoin the angels, can't take his rightful place as one of their leaders. When faced with recapturing his wings or helping Penryn survive, which will he choose?
my review:
Rating: ★★★☆☆

After reading Angelfall, I had very high expectations for the sequel. And I'm -almost- not wrong.If anything, this book is a page-turner. Like the first book, it has a lot of violence and action. There were definitely a lot of scenes that had me on the edge of my seat. But it all happened at the last 30% of the book.
I did enjoy the development of their family dynamics. Penryn's mother and her sister page are mainly absent throughout Angelfall, so I liked that they played a more prominent role in the sequel. We get to experience and learn more about their relationship, which is very very complicated. I'm glad the dark humour stayed throughout the book. And the relationship between Penryn and the twins is my favourite relationship in the entire novel. In this book, I felt her struggle more, and it gave her more layers, and she was easier to relate to. Also, the romance doesn't overwhelm the entire story. It could have quickly been pushed down the route where it was just full-on romance and love triangles and whatnot. Fortunately, that's not the case here. There's still that hint of romance, but without distracting too much from the actual conflict.
However, what didn't work for was the pacing. It just felt too long at the beginning, and I think it's just that it took a while to really get into the heart of the story. It just felt like a lot of build-ups rather than having its own robust and central plot. The end seemed to be moving towards a more significant conflict, but then it was cut off abruptly. I was also sort of disappointed by the reunion of Penryn and Raffe. The meeting between him and Penryn was anti-climatic. I mean, he thought she was dead, and then it was kind of like
Penryn: yooo I'm not dead
Raffe: k
The scene where he thought she was dead in the first book was so heartbreaking, and then the whole thing where he returned her (supposedly dead) body to her mother even though it could've gotten him killed. I guess I wanted the scene to be more emotional…
If the last 25% were the whole book, this probably would have gotten a five-star rating and went straight to the favourite shelf on Goodreads, but unfortunately, the first 75% felt complete filler that could have been sped up a little more. I had to force myself to read and not skim. However, the scenes explaining Paige and what happened to her was fascinating, and the relationship between her and Beliel was really creepy. Overall, it was still enjoyable and exciting, and I can't wait to read the final book.