Buzz Books gives reads the chance to sample forthcoming young adult novels month ahead of their publication. I wasn't sure if these technically counted as reviews since it's just samples but I'll be giving my opinion on them and whether I would put them on my TBR.
A great variety of excerpts in the YA genre. I love that Buzz Books offer a collection of snippets from exciting new releases. But it's a shame that barely any of these books piqued my interest and the ones that did don't have a request link to NetGalley. But these five especially caught my eye.
Melissa de la Cruz, SOMETHING IN BETWEEN (Harlequin Teen)
When your country doesn't want you there, how do you know where you belong?
Jasmine de los Santos has been pushed by her Filipino immigrant parents to over-achieve, be the best she can be, work as hard as she can at school and reach for the American Dream. She's thrilled to be named a finalist for the National Scholarship Award and prepares to go to Washington, D. C. to receive it. But when she brings home the paperwork, she learns that she and all her family are in the country illegally.
I think Something in Between is one of the better excerpts in this, and it sounds similar to The Sun Is Alsos Star by Nicola Yoon. Luckily this one was available n Netgalley so I hope I get lucky with this one because it sounds interesting.
Nadia Hashimi, ONE HALF FROM THE EAST (HarperCollins)
Internationally bestselling author Nadia Hashimi's first novel for young readers is an emotional, beautiful, and riveting coming-of-age journey to modern-day Afghanistan that explores life as a bacha posh—a preteen girl dressed as a boy.
I was SO upset when I didn't see a Netgalley link at the end of this one.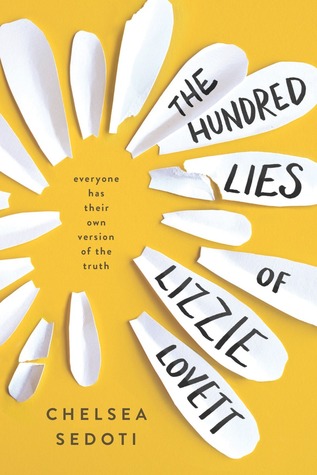 Chelsea Sedoti, THE HUNDRED LIES OF LIZZIE LOVETT (Sourcebook Fire)
A teenage misfit named Hawthorn Creely inserts herself in the investigation of missing person Lizzie Lovett, who disappeared mysteriously while camping with her boyfriend. Hawthorn doesn't mean to interfere, but she has a pretty crazy theory about what happened to Lizzie. In order to prove it, she decides to immerse herself in Lizzie's life. That includes taking her job… and her boyfriend. It's a huge risk — but it's just what Hawthorn needs to find her own place in the world.
From the description alone, I wasn't impressed which is usually the case with me and contemporary novels. But from reading the excerpt, Hawthorn is a strange narrator and I really want to find out what happened to Lizzie Lovett.
Josh Sundquist, LOVE AND FIRST SIGHT
On his first day at a new school, blind sixteen-year-old Will Porter accidentally groped a girl on the stairs, sat on another student in the cafeteria, and somehow drove a classmate to tears. High school can only go up from here, right?
As Will starts to find his footing, he develops a crush on a charming, quiet girl named Cecily. Then an unprecedented opportunity arises: an experimental surgery that could give Will eyesight for the first time in his life. But learning to see is more difficult than Will ever imagined, and he soon discovers that the sighted world has been keeping secrets. 
This reminds me of Not If I See You First but with a male lead instead, and I was SO hooked from the excerpt. (Sadly, no Netgalley link because I really want to read this one!!)
Booki Vivat, FRAZZLED (Anastas)
Abbie Wu is in crisis—and not just because she's stuck in a family that doesn't quite get her or because the lunch ladies at school are totally corrupt or because everyone seems to have a "Thing" except her. Abbie Wu is in crisis always.
Heavily illustrated and embarrassingly honest, Frazzled dives right into the mind of this hilariously neurotic middle school girl as she tries to figure out who she is, where she belongs, and how to survive the everyday disasters of growing up. With Abbie's flair for the dramatic and natural tendency to freak out, middle school has never seemed so nerve-racking!
The art style was enough to put this on my TBR. I'm so interested in this one!