Everyone is probably most likely well aware of the British programme Great British Bake Off. If you're not, The Great British Bake Off, often referred to as Bake Off or GBBO, is a television baking competition which selects from amongst its contestants the best amateur baker. And it's one of the best things that have graced our screen here in the UK. This is my first attempt at a book tag. During my initial search, I hadn't found a GBBO book tag and, therefore, created this one. But with a little more digging (well for me, clicking google page 2) I found out that ReadingWithJack on YouTube had already made one. I considered not to post my one but then I saw his and realised his ones are actually really different to mine. (And I didn't want to let the graphics go to waste….)
Rules:
Link back to my blog is appreciated but optional. Feel free to use my graphics. TBH it is horrendous so I wouldn't expect anyone to use them
Tag people, don't tag people, whatever. Just have fun.
Ready, get set, Bake! (or tag)
The Long Way is now published through Harper Voyager but I believe it was self-published through CreateSpace first. Anyway, I loved this one. It was so great and amazing. And I'm so excited for its standalone sequel that's coming out this year!!!
I freaking loved Angelfall. So much that I was basically blogging about it when I had an upcoming exam in three hours. But as the series progressed, I found myself sorely disappointed with its conclusion. I kind of guessed it would end up the way it did, but I didn't want it to. Don't want to spoil but wasn't a huge fan with how it all ended.
---
LONG STORY SHORT: #bingate happened when the contestants were making Baked Alaska on one of the hottest days of the year. Iain had put his ice cream in the freezer and Diana put his one to the side to put her ice cream in the freezer. The dish already had issues so it collapsed and Iain just chucked it into the bin. This resulted in him being elimiated that week since he had nothing to present. AKA one of the most dramtic moments of UK TV ever.
I made a personal decision not to read the rest of the Dorothy Must Die series by Danielle Paige, aside from Dorothy Must Die, which I did really enjoy. (No hate to Danielle, I just don't support Full Fathom Five) But this caught my NetGalley and I have to admit, I was interested. And according to the copyright page, FFF isn't involved in this one. Correct me if I'm wrong. Technically, I haven't officially DNF it yet but I'm around 65% in and I'm close to giving up. The writing isn't bad, Paige knows how to write but Stealing Snow was just so bland and didn't feel like it had a true plot. (I'm pretty sure there are three love interests! Three! I never wanted one but Paige has given us three!)
EDIT: I wrote this post a bit too prematurely and I actually did end up finishing Stealing Snow. So another book I DNF was An Abundance of Katherines. I was actually excited to read this one because there was a Muslim character but, oh boy, I was in for a disappointment.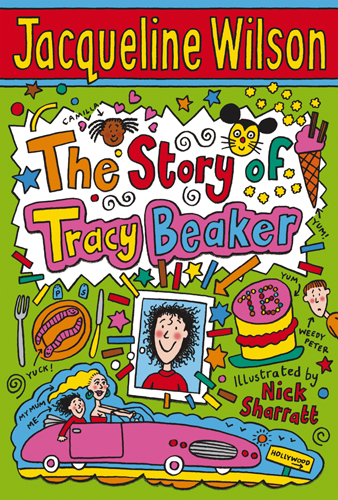 You know what's more British than GBBO? That's right, Tracy Beaker.
A little snippet from my review of Radio Silence which really sums it up. "Although I do tend to stray away from YA novels that attempt to mix in fandom into its plot because I often find it doesn't use fandom as well as it could. But I really enjoyed how Alice used fandom to show the beauty and danger of the internet while creating a solid novel about choices, and whichever path you take doesn't matter, so long as you decide the course of your future."
My family aren't big readers but the only author that we've all read is anything by Khaled Hosseini. He's the go-to author everyone in my family tend to recommend to each other.
(Note: I intentionally didn't include a number of books you should list, it's up to you!)
---
I'm too picky to have one definitive favourite but TSOA is one of them . Just so captivating and amazing. Even if you're not huge on Greek classics, it's a good one.
---
This series isn't even completed yet but I already know it's one of my favourites. The Great Library series is set in a world where the Great Library of Alexandria survived and is now a dark presence in every major city, making the personal ownership of books forbidden and can only be accessed through the Library's own system using Alchemy. The hardback American cover of these are actually the best things in the world. They're designed to look like old books AND IT'S EVEN MORE PRETTIER IN REAL LIFE.
---
To be honest, anything from the Hogwarts Library series is an instant favourite.
---
Well, this was an interesting first attempt at a making a book tag. And I tag:
and you! (Tagging everyone is difficult and I don't know if anyone will actually complete this ahah…p.s. you should visit everyone above)