It's that time again where everyone in the book blogging community do their annual check in to see their reading progress. As of the end of June, I have read 51 books so far this year. I never really got into doing this the past years because I never really had time to reflect on my reading choices until the end of the year. But I've really enjoyed the books I've read this year.
I'm not sure if these are the correct questions since I can't seem to find the original post but I had taken these from Saajid's video. I also removed fictional crush because it just wasn't applicable so without further ado, I present my Mid-Year Freak Out Book Tag!
Best book you've read so far in 2019.
I'm saying it now, I don't think any book I read this year will beat Jade City. This book is my everything and I love it so much. I wrote a short review not long ago but honestly I don't think that it gave it justice.
Best sequel you've read so far in 2019.
…. Jade War.
Don't be surprised by the amount of times I will mention the Green Bone saga. I came to read Jade City by chance after receiving an email to join the blog tour for Jade War. So I delve into the first book and already knew I had to join the blog tour. I actually wasn't expecting to be accepted but I'm so grateful to Shealea @ Caffeine Book Tours for choosing me. I'm holding off my thoughts for the blog tour but yes, the sequel raises the stakes and had me emotionally drained.
New release you haven't read yet but want to
I bought a copy months ago and it's still sitting on my shelf. I really like zombie apocalypse stories in any form of media so I definitely need to get around and read this.
Most anticipated release for the second half of the year.
By day, seventeen-year-old Jo Kuan works as a lady's maid for the cruel daughter of one of the wealthiest men in Atlanta. But by night, Jo moonlights as the pseudonymous author of a newspaper advice column for the genteel Southern lady, "Dear Miss Sweetie." When her column becomes wildly popular, she uses the power of the pen to address some of society's ills, but she's not prepared for the backlash that follows when her column challenges fixed ideas about race and gender. While her opponents clamor to uncover the secret identity of Miss Sweetie, a mysterious letter sets Jo off on a search for her own past and the parents who abandoned her as a baby. But when her efforts put her in the crosshairs of Atlanta's most notorious criminal, Jo must decide whether she, a girl used to living in the shadows, is ready to step into the light.

From Goodreads
How can you read a description like that and go on with your day?????
Biggest disappointment.
Ugh, I don't even want to talk much about this. This was just one of those books that really didn't work for me.
Biggest surprise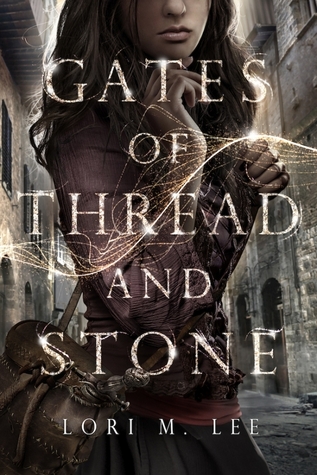 It has come to my attention that I am seriously late to the party by reading Gates of Thread and Stone in 2019. It's a shame that I wasn't an active book blogger in 2014. I know 2014 me would've loved this even more than I did in 2019.
Favourite new author. (Debut or new to you)
Fonda Lee. After loving the Green Bone saga, I definitely need to get my hands on some of her other books.
Newest favourite character.
Emery Anden. (From Jade City…. I'm not even ashamed that this series keeps popping up on this list.) I hate that I can't even explain why I love Anden so much. He's very different to his Green Bone family and chooses to stop wearing jade because how dangerous it can get when he wields it. His character development is slow and steady and very worth the read.
Book that made you cry.
OKAY, I tried really hard to pick a book that wasn't Jade City but, damn it, it has to be Jade City again.
Book that made you happy.
Although, I wasn't too keen on Red, White & Royal Blue, I have to admit it was a pretty fun read. It made me laugh a lot and will appeal to lot of people. I would re-read again just for the hilarity of it all.
Most beautiful book you've bought so far this year (or received)
I'm cheating a little here with Our Dreams At Dusk since my sister bought the manga. The manga follows a young teen who meets other LGBT+ people at the lounge after he fears he has been outed at school. ODAT was a gorgeous manga, the art style was so magical, that my sister had to by a physical copy.
What books do you need to read by the end of the year?
Dread Nation
The Fifth Season
We Set the Dark on Fire
That's it for this year's Mid Year Freak Out! Have you read any of these books yet? Or do you have any book suggestions? Thanks for reading!